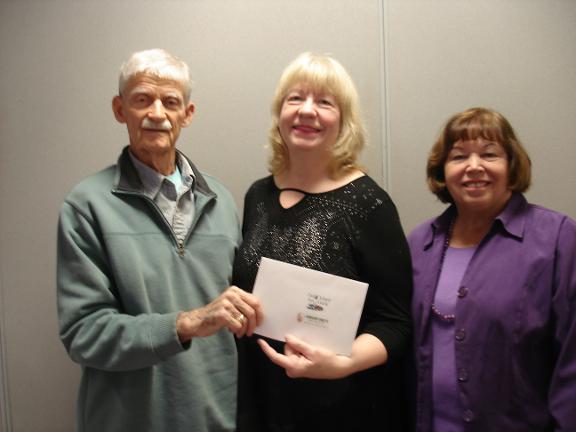 Fall 2017 - Oak Island Art Guild President, Dick Staat, Janet Stephenson, Connie Enis, Fine Arts, Brunswick County Schools.
Oak Island Art Guild and Cheap Joe's Art Supplies awarded teacher, Janet Stephenson, Waccamaw School in Brunswick County a charge card to buy $1250 worth of art supplies for her students..grades K thru 8.
Each year the Oak Island Art Guild will make a $1,000 cash donation to Brunswick County public schools and solicit an art supply company to make a $250 donation. The art teacher may order the art supplies of his/her choice from the catalog of the co-sponsor, Dick Blick or Cheap Joe's Art Supplies. The first award was granted to Patricia Lyles and Nick Batounis, South Brunswick High School, in 2010. Cheap Joe's was the art supply company.
The subsequent awards were as follows:
Year Art Teacher School Art Supply Company
2017 Janet Stephenson Waccamaw School Cheap Joe's
2017 Lisa Banester Southport Elementary Cheap Joe's
2016 Lorenzo Jennings Brunswick Academy Cheap Joe's
2015 Lisa Banester Southport Elementary Dick Blick
2014 Mrs. Patricia Lyles South Brunswick High Cheap Joe's
Mrs. Hope Hyer South Brunswick Middle Cheap Joe's
2013 Katy O'Neil South Brunswick High Cheap Joe's
2012 Katy O'Neil Southport Elementary Dick Blick
2011 Hope Shadding South Brunswick Middle Cheap Joe's
"If I could say it in words, there would be no
reason to paint."~Edward Hopper